Success Stories
Success Story - 1

Smt. Asha Devi
Husband Name : Sri Yugal Kishor yadav
Qualification : Middle
Village : Bisanpur, Jichho
Block : goradih
Distt. : Bhagalpur
Smt. Aasha Devi born in labour family. She got married in a farmer family. In sasural, she started helping her family in farming and care of animal. But her area of interest was tailoring & stitching since her early days. In the meantime, the village Jichho was adopted by KVK, Sabour, Bhagalpur and she comes in contact of KVK Scientist during off campus training programme organized for women in the village. KVK Scientist found that there was no SHG in the village. So the women were motivated to form the SHG. Smt. Aasha Devi also gets motivated and formed Aang Jyoti SHG. She used to visit KVK regularly and expired to basket of technology of KVK. Initially, she started mushroom farming but she faced problem in procuring spawn and also marketing of produce. Then for shake of her interest she started homestead tailoring and stitching and got training of stitching & embroidery from KVK, Sabour. She takes up tailoring-stitching & embroidery and homestead enterprise. She taken loan from group and purchased new machine. She also uses to impart training to rural girls & women in stitching & embroidery. She also get opportunity to be a part time trainer in Holy Family School, under a welfare project. Beside this she also use to embroidery work in bed sheet & there dress material on order. She earns about 6,000 - 10,000/- per month. She expense her income in education, medical and other unforeseen work as well as saving for future. She is happy with her earning.
Success Story - 2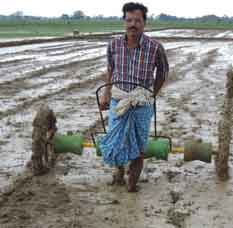 Farmer Name : Sri Ranjan Kumar Suman
Father Name : Sri Sarweswar Mandal
Village : Barahari, Block- Goradih
Mobile No. : 9430025237
He is having six family members, is a medium farmer. He has about 8.0 hectare of land for cultivation. Earlier, he had been worrying to fulfil the needs of his family members as he was totally dependent on agriculture and there was no any alternative source of income. Primarily he used to cultivate only 1.0 -1.5 ha land for rice with traditional system i.e. transplanted rice (TPR) that involves intensive input in transplanting, weeding, irrigation, harvesting and threshing. The remaining 6.5 – 7.0 hectares of land was cultivated by other farmers (known as batayidar) or on lease basis. Once upon a time he become serious ill during 2011-12 and no man was in the family that can hold the responsibility of agriculture as the family members were either too old age or of children.
The batayidar planed to cover whole land under their ownership without any agreement. This was the stage that turned his mind and he decided to cultivate on whole land under his own ownership. After improvement from ill a transformation happened in his life when he attended farmers training programme on "New advance technology of rice cultivation including DSR" at KVK, Bhagalpur. It was decided by KVK to put a FLD on DSR and Zero tillage (ZT) in wheat with improved varieties and the demonstration was conducted on his field during 2013 - 14. He was impressed to see the overall growth, yield and quality of produce under demonstrated field. In the next season, considering the overall performance he decided to cultivate rice with DSR in 8.0 ha and entire Rabi crops with ZT like wheat, chickpea, lentil etc.
The details of income is given as below.
| Crop | Area (ha) | Cost of Cultivation (Rs.) | Net Return (Rs.) |
| --- | --- | --- | --- |
| Rice with DSR | 8.0 ha | 65,000/- | 4,00,000/- |
| Wheat with ZT | 5.5 ha | 82,250/- | 2,24,000/- |
| Chickpea with ZT | 0.8 ha | 84,00/- | 38,900/- |
| Lentil with ZT | 1.0 ha | 12,000/- | 50,000/- |
| Mustard | 0.8 ha | 6,900/- | 21,000/- |
| Sprayer on hire basis | | | 1,50,000/- |
| | | Total net return in one year | 8,83,900/- |
In this way with the intervention of new technologies from KVK, Sabour, Bhagalpur, he earned a total income of Rs. 8,83,900/- in one year.
Success Story - 3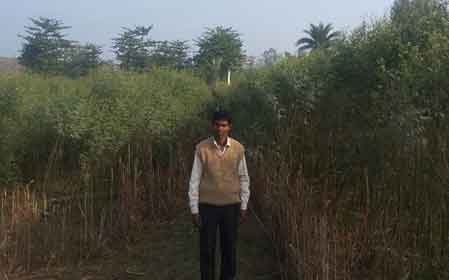 Sri Kamlesh Kr.
Father's Name : Balram Mahto
Village : Gokul mathura
Block : Pirpainti
District : Bhagalpur
He produced 10.5 q/ha sesamum yield against the Krishna verity potential yield (i.e. 6-7 q/ha). Sri Mahto has grown in 1.0 acre sesamum in kharif season, 2016 under Cluster Front Line demonstration with the help of KVK, Bhagalpur scientists. Seasamam crop was sown in second week of July after the damage of Chilli crop at 2-3 cm depth with the seecreate of 5.0 kg/ha in proper soil moisture condition ofter PSB inoculation, seed treatments with insecticide, fungicide and use of balance also of fertilizer on the basis of soil test (40:15:20 kg/ha N, P2O5 & K2O). Full dose of P2O5 and half dose of N were applied as basal and remaining half dose of N was top dressed after 30 DAS. Fertilizers were applied uniformly through urea, single super phosphate & muriate of potash. Pendamethalin (30% EC) was applied just after sowing @ 1.30 litre/acre. Crop was not irrigated due to sufficient rainfall. Seasamum crop not eat/grazing by any animals like cow, goate sheep, buffalo etc. Crop was harvested at capsule become yellowish as well as seed black with sickle to avoid shedding. Seed sell at the rate of Rs. 100/kg with the producing cost Rs. 14500/ha. He bagged Rs. 90500/- from his one acre of land and he works as motivatar & master trainer for all nearby villages.
Success Story - 4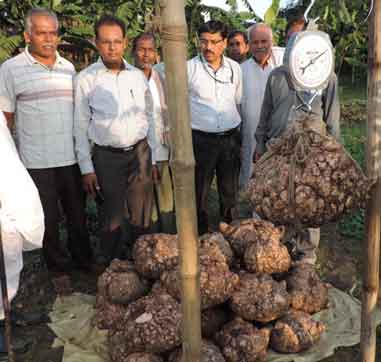 Sri Sacchidanand Singh
Father's Name : Sri Prithavi Pd. Singh,
Village : Mahadatpur,
Block : Naugacchia,
District : Bhagalpur
Sri Singh is retired army man. Mr. Singh was facing acute problem adjustment because army environment and rural was entirely different. First of all he has made his presence at rural level and started understanding agriculture. He has exercised that how it can be profitable then he has started agricultural activity. During this period he has attended a training programme at KVK, Bhagalpaur on Vermicompost production and stared Vermicompost production unit at Mahadatpur. Wherever he needed technical input KVK scientist provided him progressively he attened so may training programme like management of orchard, scientific cultivation of banana, ripening in banana etc. Mr Singh realised that technical know- how is the best input and develop confidence in KVK. KVK scientist also visited his village and advised him for organic farming. Mr. Singh is also associated with Baba Ramdeo. KVK had conducted different OFT like intercropping in litchi orchard, intercropping in banana, fertilizer management in banana, ripening of banana etc. But he strong desire to cultivate crop organically. He has started and achieved target. He has increased area under elephant foot yam and Haldi in orchard and started marketing by own. He has sold out his elephant foot yam @Rs. 30/kg at his farm gate. He has earned Rs. 50,000/- from small piece of land size 37m2. He has processed turnei and saling turmeric powder after picketing earned Rs. 57,000/-.
This was not a limit this was start of progressive and aggressive farmer Mr. Sacchidanand Singh. As a result all farmer of Mahadatpur has established Vermicompost and his village is announced as organic village in Bhagalpaur.
Success Story - 5

Sri Anant Kuamr
Vill : Kapsouna,
Block : Saahkund,
Dist : Bhagalpur – 813108
Mob : 9771797376
He was doing farming from long. He had already 2 acre of land, but he was interested in doing farming on more lands, to increase his income. Initially he was doing his farming through old methods, but he was not able to enough income through the use of these methods, and was unable to evelin all the requirements of his family. Therefore he met the scientists at Krishi Vigyan Kendra at Sabour. As he came into contact of KVK he got information regarding use of farm machines in agriculture as well as various modern methods of agriculture. He also got information about other associated works with agriculture, which can give much more profit then what he was getting on that day.
After his contact with KVK he got information about laser Land Leveller and Zero Tillage Machine for wheat sowing, fisheries, dairy etc. Initially his wheat output was low, and had various problems of growing wheat. Thereafter he started his own dairy business. He has now three numbers of cow, three numbers of buffalo and 3 calfs. He has taken membership with ITC dairy, Munger and is supplying milk to the dairy. This has helped him economically much more. He also took a pond of area 3 acre for fish farming, and this has helped him immensely in becoming more economically stable.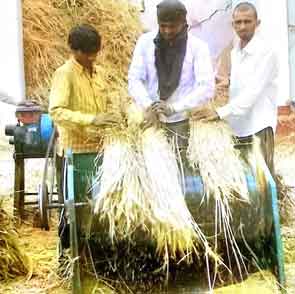 He also started to use the farm machineries like Laser Land Leveller and Zero Tillage machine for showing of wheat. After the use of laser land evelin his agriculture output grown, while input going downwards. His irrigation requirement decreased, while his net crop area increased due to laser land eveling. He also started to use Zero Tillage machines, which increased his wheat output and benefitted him immensely, as conservation agriculture does. As he become more conversant with this method of farming, a lot of farmers started to come in contact with him. Due to the use of these methods his income grows by 50-55 % within 2-3 year. At least 500-550 farmers have got introduced about modern farming methods and machines, through him. And now a lot of farmers have become more interested in his farming methods. Sri Anant Kr. Is now having 14-15 farm implements, and he is now a day's putting his machines on rent, it further increased his income.
Initially he was getting an income of around Rs. 40,000 to 50,000 through his land. But after the use of modern mechanization methods his total income increased to Rs. 2.50 lakh to Rs. 3.00 lakh, only though agriculture, dairy and fisheries. Now, He also gets about Rs. 1 lakh 30 thousand as rent of the agricultural implements. Now with the use of all these methods, he is now earning about Rs. 4.00 lakh and is now living his life quite happily, as he has now become economically sound.
Success Story - 6
Smt. Preetam Devi
Husband : Shri Amit Singh
Education : Matric Pass
Vill. : Bisanpur Jichho
Block : Goradih
Mob. No. : 7549526309
Agricultural land : 0.43 acre
Smt. Preetam Devi was born in a farmer family & married in a farmer's family. She was a housewife devoting maximum time in household activities and assisting her family in vegetable cultivation. Unfortunately, her husband become ill and her family faced economic problem. The need of family was not meet out by farming. Then she opened a kirana store, but the sum earned was no enough to sustain the family. In the mean time Jichho village was adopted by University on its first foundation day and movement of scientist in the village increased. She came in contact of KVK scientist during Off campus women training programme organized at Jichho village. She discussed her situation with scientist. KVK scientist suggested her different types of women friendly enterprises and invited her to KVK, Sabour. After that she participated along with other farm women of her village in on campus training programme.
After that she regularly used to visit KVK, Sabour and actively participated in the programme of Kendra. She started to channelize her activities with expert advice of scientist like growing of early vegetables, rearing milch animals as per technical advice. She got training in mushroom farming value addition of fruit and vegetable and tailoring & stitching. She started homestead mushroom farming and tailoring and stitching. At the time of adoption of village during PRA it was emerged that there was no self help group in the village. KVK scientist motivated women to form SHG and as a result first SHG namely, Laxmi SHG, was formed and Smt. Preetam Devi become the leader of group. Group was tagged to Srijan Mahila Sahyog Samiti Ltd. And it was ready to market their finished goods. She took loan from the Samiti for increasing her activity. Srijan provided her raw material for tailoring and stitching and buy back finished item by paying her wages. Further she got appointed in Srijan and presently, besides homestead tailoring and stitching. She also works in tailoring and stitching unit of Srijan. Now her life is secure and she is happy. Presently, she is able to manage her home education of her children (one daughter is in inter another is in matric and son is in class 03), medical expenses of treatment of her husband and also saves about 15 thousand per annum for future.
Success Story - 7
Smt. Sunita Goswami
Husband's Name : Sri Pradeep Goswami
Education : Intermediate
Village : Manoharpur
Block : Nathnagar
District : Bhagalpur
Mob: 09430815847
Smt. Sunita Goswami is belonging to a well to do farm family. She is hard working ambitious woman. She comes in contact of KVK, Sabour in search of avenues for establish her own identity through her work. She also wants to work for the cause of development of women. KVK scientist advised her to form self help group. She formed a SHG namely, Aadarsh SHG and selected as a secretary of group. Initially her group was engage in saving and internal loaning. KVK scientist again intervenes and motivated her to link the SHG to women friendly income generating activity. In the mean time, she gone through various training programmes of KVK, Sabour and finally decided to start business of readymade garment. With the help of KVK she prepared a project and DRDA financed a loan of Rs. 2.5 lakh. Her group started business of readymade garments. Presently she is tie-up with three companies. Her group has 17 members and per member earns about Rs. 6000-8000 per month.
Success Story - 8
Sri Dhirendra Prasad Singh
Father's Name : Late Hari Mohan Singh
Village : Pakartalla
Block : Kahalgaon
District : Bhagalpur
Mob No : 09471477404
His major area of interest is field crop particularly rabi crops, because in kharif season Ganga's flood affect the people of Pakartalla village. He is visiting KVK regularly and adopting its technology. Initially, he has done seed production of pulses (Lentil) but due to lack of marketing facility, registration, packaging facility, he faced huge loss. Then, he adopted rabi onion cultivation, due to lack of storage facility and low price of onion also discouraged him for its cultivation. Then he adopted kharif onion cultivation var. Agrifound dark. This has ready to market at high price @ Rs. 30-35 per Kg. This has encouraged him for cultivation in larger area. Due to price and no storage problem he is encouraging number of farmer to grow kharif onion in Kahalgaon block of Bhagalpur district. He is also doing kharif onion seed production of Agrifound Dark Red variety.
Success Story - 9
Sri Rambahadur Singh
Father's Name : Late Sri Surya Narayan Singh
Village : Lattipur
Block : Bihpur
District : Bhagalpur
Sri Rambahadur Singh has done his graduation in physics and is a progressive farmer. He is doing fruit cultivation like Banana (25 acres) and litchi (03 acres). As we know farmers are not aware about quality production due to balance use of fertilizer, proper disease management. The most important thing is marketing of fruits. Since he is educated farmer he does not rely on the technology whatever KVK scientist has depicted. Progressively he has verified or done a trial on his own field. Day by day he has developed a trust on technology and he has developed a deep faith in KVK. This development has lead him to attend different programmes conducted by KVK either at farmer field or at KVK. Initially he has no use of seudostem of banana after training he used it as bio-composting. After harvest of banana he has left the mother plant to provide nutrient progressively plant decomposes. After decompose he has chopped the all banana seudostem in small pieces and spread it in whole banana field along with chopped banana seudostem. He is also spread seudo-compost in the field. Worms enriched the nutrition at status of soil and enhanced the quality of banana. By adopting the technology he has done very good work of bio-composting in this way he has depleted the economics of Banana cultivation given below :
| After Adoption | Before Adoption |
| --- | --- |
| Use seudostem and worms rich vermin-compost | No practice |
| Decreases the use mineral fertilizer | Using mineral fertilizer |
| Chopped banana seudostem + worms rich vermin-compost (Rs. 05-10 Kg per seudostem) | 400 gm urea + 250 gm DAP + 100 gm Potash (Rs. 35-40 per seudostem whole life) |
| 200 gm urea + 100 gm DAP + 300 gm MOP (Rs. 12-15 per seudostem whole life) | |
| Enhance quality with girth, keeping quality also | There is no important in quality with poor keeping quality |
| Cost of bunch Rs 250-300 | Cost of bunch Rs. 125-175 |
If study the economics of Sri Singh banana cultivation, it is very economical and farmers friendly. This type of new and innovative technology is spreading among all fruit cultivators particularly banana. He is also irrigation Banana by drip irrigation.  
Success Story - 10
Sri Madan Kumar
Village : Raghopur
Block : Kharif
District : Bhagalpur
He grows only pointed gourd and maize. He is not getting return as per his desire. Major problem with Mr. Madan was that Ganga's flood engulfs his standing crop. Again for new planting material brought from W.B @ 3500/- per genital. For planting in one ha of land only 14000 is required for planting material. The most important thing in W.B they were selling their planting material without proper male female ration. That is big problem of farmers of raghopur. This problem is not confined only to raghopur but quality planting material was problem of also pointed growers. Initially nadaw has no idea of preparing planting material, identification, male, female plants, proper ratio etc. Mr. Madan has taken a bold step and decided to prepare pointed gourd saplings. Initially he is visiting KVK for different training programme and for the purchase of different seeds. Krishi Vigyan Kendra also coperate him and trained him Madan with other villagers have lifted the vines of pointed gourd and developed planting material in poly Bag. Krishi Vigyan Kendra's Scientist conducted a OFT on assessment of different method of propagation of pointed gourd. KVK scientist conducted training, OFT is raghopur. Visited diarah and try to bring awareness in all pointed gourd growers to same their won vines and prepare planting material. Since Mr. Madan is young farmers and he has taken lead and developed their own planting material with group of farmers. Initially he has provided free of cost planting material of pointed gourd to the farmers. Progressively pointed gourd growers and other growers identify him and purchase vine/sapling from Mr. Madan @ Rs. 5/ sapling. Pointed grower from other district like Khagaria, Munger etc, they are contacting him and purchasing pointed gourd saplings. He has earned Rs. 50,000 from planting material of pointed gourd.
During 2015-16 KVK scientist has promoted them for spices cultivation like aizwan in Diarah land in very small area of 20 acres. Due to availability of market with deccent price incouraged the farmers in for its cultivation in large area and during 15-16 area increased from 20 acres to 150 acres.
Success Story - 11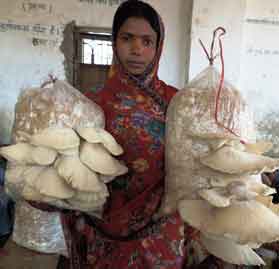 Smt. Sarita Devi
Husband's Name : Sri Vishundeo Pandit
Vill.: Malpur,
P.O.: Gosaigaon
P.S : Block- Gopalpur,
Distt.: Bhagalpur
Mob. No.: 09709501243
Major Activities : She is a secretary of Jagriti Krishak hit samuh. She also motivated other women and in her lead two other group namely Krishak Hit samuh & Seeta krishak hit samuh is formed in the Malpur. She has also taken initiative in opening account of these groups in bank. As a result, women are making little saving and as per their need, they also take loan from their saving for business or other purposes.
She is also master trainer of mushroom and tailoring stitching. She trained hundreds of women in mushroom farming and tailoring stitching in the village and nearby area.
Horticulture Crop : Banana, Cauliflower, Brinjal
Field Crop : Maize, Wheat
Other Activities : Mushroom farming, rearing of milch animals
Allied Activities : Homestead tailoring & stitching
Income Generation : She earns Rs. 4000 – 5000 per month from tailoring & stitching and also earns Rs. 25000 – 30000 per season from mushroom farming.
Success Story - 12
Smt. Dhanjo Devi
Husband's Name : Sri Pankaj Kumar Singh
Vill. : Kharba
P.O. : Murhanhat
P.S. : Block- Goradih
Distt. : Bhagalpur Mob. No. : 09572965270
Group Activities : She is a chairman of Maa sharde SHG, Secretary of Bhawani SHG and actively engages in group activity. As a result of her motivation, seven SHG groups are running in her village. Out of them, five SHG have also taken loan from bank for farming, vermi-compost Production & other related activities.
She is master trainer of mushroom farming and always motivating other women to come forward in every respect to secure their livelihood safety.
Horticulture Crop : Potato, Onion
Field Crop : Paddy, wheat, Gram, Lentil
Other Activities : Mushroom farming, rearing of milch animal
Allied Activities : Vermi compost Production
Income Generation : She earns Rs.70000 - 75000 per annum.
Success Story - 13
Sri Anant Kumar
Father's Name : Sri Dwarika Prasad Singh
Vill. : Kapsona P.O. : Shahkund P.S. : Block - Shahkund Distt. : Bhagalpur Mob. No. : 09572965270
He thought of leaving the farming and does some other job for hid days to days needs; in that time he came in contact with Krishi Vigyan Kendra. He started seed production of Masoor and Wheat in 02 Acre of land and got 07 qt. of Lentil and 19 qt. of Wheat/acre. He sold the produce @ Rs. 70/kg in place of Rs. 38/kg for Lentil and @ Rs. 42/kg in place of Rs. 16/kg for Wheat and received Rs. 1,28,000.00; resulting benefit of Rs. 71,800.00. Thereafter, he got training on integrated farming system and took 03 Acre of Pond on lease with 04 more farmers, and started animal husbandry; receiving net benefit of Rs. 65,000.00/year. After looking the income in scientific agriculture, Sri Kumar got training on Repair, Maintenance and Operation of Farm Machines at KVK, Sabour. He purchased 15 farm machines and started to provide those machines to other farmers on rent basis since 2010 to till date. By this way, he introduced farm mechanization among those farmers, who were using existing manual methods. By this approach, he has made his village a centre for technical knowledge, and started his custom hiring centre; resulting in net benefit of Rs. 4,00,000.00/year.
Sri Kumar told that by using integrated farming system, seed production and by custom hiring of farm machines, he is receiving approximately Rs. 6,18,800.00/year as net benefit. In coming days, he wishes to purchase some heavy farm machines for increasing his net income. Mechanization in agriculture has provided him a simple way for his livelihood. Subsidy by Govt. of Bihar on agricultural machinery has also provided to him. Sri Kumar is now the chairman of a PACS and is now also providing training to the farmers on operation and maintenance of farm machinery as well as on seed production.
Success Story - 14
Sri Amitabh Anand
Father's Name : Sri Anandi Prasad Singh
Vill : Mohanpur,
Panchayat : Gobrain
Block : Sahkund
Distt. : Bhagalpur
Mob. No. : 09931039610
He received the first position in "Krishi Samrat Samman (East Zone)" in the category of 5-20 Acre agriculture of the prestigious Mahindra Samridhi India Agri Award –2015. He also received a cheque of RS. 51,000/=, a memento and a recognition certificate in recognition of same.
He cultivates paddy using paddy transplanter, and uses Cono Weeder after 15-20 days to control the weeds, resulting in more production. Earlier farmers in his area used to low productivity of paddy, lack of labor, untimely planting, lack of proper irrigation, weeds, mites, and soil related problems. Use of Paddy transplanter minimizes such constraints and increases the productivity. Preparation of seedlings for one acre land, requires an area of 28-32 square meter land, and it requires 15 days, while the established method requires 200 sq-m land for seedling p[reparation and requires 25 days. More tillers are coming with the use of paddy transplanter in comparison to conventional methods, which results in more production and reduced expenditure. It is economical also in comparison to conventional met6hods, as it requires only an amount of Rs. 1000/= per acre in comparison to Rs. 1600/= per acre required for conventional method. It can also plant 5-6 acre land in a day. The productivity in case of paddy transplanter is around 21 quintal /acre, while it is only 16 quintal/acre in case of conventional methods, which is 5 quintal/acre less, then paddy transplanter technique.
The use of machines for harvesting and winnowing is also beneficial in comparison to manual methods, as it requires Rs. 2400/= per acre in comparison to Rs. 4200/= per acre in case of conventional manual methods, resulting in saving of Rs. 1800/= per acre in case of use of machines. So, use of machinery reduces the cost of production and increases the productivity. By using machines, Sri Anand saves Rs. 10,300/acre. He also have a lot of agricultural implements like Zero Tillage , which reduces the irrigation need upto 40 %, and allows timely sowing of wheat, and also results in more production as well as more financial gains.
Success Story - 15

Sri Vimal Kumar Pandey
Vill. : Srinagar
P.O. : Srinagar P.S. : Block - Pirpainti Distt. : Bhagalpur Mob. No. : 09934357040
In search of an efficient entrepreneurship development, he came in contact with the KVK, Bhagalpur and discussed about their interest of farming and the situation prevails in their village. Then, they were advised to adopt broiler as well as goat farming. After receiving the technical knowledge regarding broiler farming and goat farming through training, they show their interest to open an ideal farm. The scientist of the KVK visited the plot and given him a lay out plan of the farm. After the cumulative effect, he collects 4 lakh of rupees and constructed a low cost poultry house of capacity 3500 birds. At present, he acts as a role model in their locality and after seeing their farm, many youths of that locality regularly contacted with KVK, Bhagalpur to start their enterprises.
Initially, they started farming on contract basis and earned Rs. 25000 of in a cycle. Then again they advised to control the marketing strategies and now they earn Rs. 50000.00 (Rupees Fifty thousand) in every cycle and in a five cycle as yet they earn Rs. 250000.00 (Rupees Two lakh and Fifty thousand) after five cycle.
Success Story - 16
Sri Amit Kumar
Father's Name : Late Sri Ramnath Singh
Vill. : Tetri
P.O. : Naugachhia
P.S + Block : Naugachhia
Distt. : Bhagalpur
Mob. No. : 07549365177
He is young graduate and progressive farmer. He has assessed himself in many fields, than adopted agriculture sector. Before starting any enterprise, he has visited KVK, Bhagalpur for valuable suggestion and training in regarding subject. Then, he started vegetable cultivation nursery raising and protected cultivation of vegetables. To promote the organic farming of vegetable, he has developed his own vermicompost unit and carbonaceous pit. He has also developed his own panch gavya, solution of turmeric, solution of karanj leaves and solution of calotropis leaves to control the insect pest. Initially, it was very tough to develop successful enterprises particularly in agriculture sector, but hard work of Mr. kumar's patience and zeel for success. He had come with flying colours. KVK, Sabour has provided technical knowhow, through training, visit, voice message and other sources. He had harvested early coriander leave in month of July and earns Rs. 25000/- from 1000 m2 poly house, followed by cucumber cultivation from july to november and again followed by same crop. He earned total sum of Rs. 84,000/- from these two cucurbitaceous crop. After harvesting cucumber, he has planted bell pepper and earned Rs. 90,000/- to this crop.
He is also master trainer of protected cultivation and inspiration for all the farmers. The farming community of Bhagalpur visits his polyhouse and learns technical skills.
Success Story - 17
Sri Vijay Kumar Singh
Father's Name : Late Thithar Singh
Vill. : Telghi
P.O. : Kharik
P.S + Block : Kharik
Distt. : Bhagalpur
Mob. No. : 09006536353
He is a small farmer of banana but he had 8 acre of land on lease and started cultivation of banana on large scale. Due to lack of knowledge and proper management of banana crop he was unable to commercial production of banana. Then, he had approached KVK, Bhagalpur. KVK visited his plot and suggested him proper guidelines. Furthermore, he had attended training, visit to KVK, telephonic conversation and other means regularly. He had modified his activity scientifically and optimized his resources to enhance the quality of banana fruit. Ultimately, all means of resources worked as well as optimize the balance use of fertilizer and irrigation through drip system. He earned Rs. 9,00,000/- net profit from banana fruit production. Along with banana, he had earned extra income of Rs. 50,000/- by intercropping of suitable crop in banana from kharif to rabi season.
Now days, he is awareing to connect more and more number of farmers to KVK and also advertizing the importance of KVK among more number of farmers.
Success Story - 18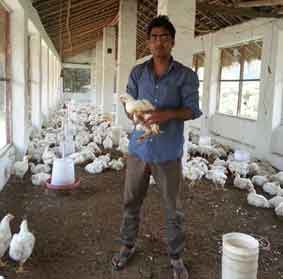 Sri Syed Hali Manzoor
Vill. : Puraini
P.S + Block : Jagdishpur
Distt. : Bhagalpur
: 09334218508
This is story of a highly qualified, educated mechanical engineer. He belongs to a very sound family but his eagerness towards the entrepreneurial skills and utilization of his family resource brought them at KVK, Bhagalpur. After the brief counseling with the KVK experts, he receives the training in poultry production.
After receiving the training, he hired an old closed poultry farm and renovates them as per the advice received by the KVK personnel. After renovation, a 5000 bird's capacity poultry house was established. Now, as per advisory, he started to rear 1000 broiler birds in first lot and the economics of the farms are as follows.
| S.N. | No. of Broiler Reared | Cost of Cultivation (In Lac.) | Gross Income (In Lac.) | Net Profit (In Lac.) |
| --- | --- | --- | --- | --- |
| 1 | 1000 | 1.25 | 1.45 | 0.20 |
| 2 | 3000 | 3.75 | Awaited | Awaited |
As the table indicated that after the encouraging return in first cycle, he placed (3000) three thousand of broiler birds in his farm at one week interval and he is trying to use the full strength of the farm. He is providing the jobs for two persons. His enthusiastic nature compels them to introduce quails in his farm and he is rearing 500 of quails also.
Success Story - 19

Smt. Maya Devi : Women Empowerment
Smt. Maya Devi was borned on 2nd of October 1984 in a farmers family and she is received education upto intermediate. She married on the age of 18th in a farmer's family. Since from the beginning her ideas about life was different. By the nature she is a struggler and fighter lady as a result she shares her hand with the husband for the upliftment of the family. After the five year of marriage the division of family destroys the livelihood status of the family. The need of the family was not meet out by the farming then she decided to open a Kirana shop and earned 5000 of rupees. These 5000 of rupees was not enough and for the betterment of the family she received the training of Peda Making from a very famous place Karwa More of the Khagaria District.
Due to her progressive nature she planted 32 trees of Mango and Guava and out of 32 ten plants were died due to disease. By the news paper she aware about the function of KVK and reached Krishi Vigyan Kendra, Bhagalpur and received the information about the disease condition of plant and apply the solution on her plant as a result they saved their plant. For providing the better livelihood security she again contacted KVK and counseled with the Programme Co-ordinator and she was advised to adopt Broiler farming and Goat farming for the quick return. Then she received the training by SMS, Animal Science scientist of KVK and constructed a low cost bamboo house with the cost of 40000.00( Forty Thousand) and initially started poultry farming with 500 capacity of bird. Presently she earned 8000-10000.00 of rupees on every month by selling of poultry. At present she rear 1500 of poultry and earned 20000.00(Twenty thousand) at every cycle. After the establishment of poultry farm she also established a goat farm under the guidance of KVK and presently she has 42 Sirohi, 62 Black Bengal, 10 Jamuna Pari and 20 cross bred goats. After seeing the success of Maya devi many farmers of the nearby village started poultry and goat farming. Smt. Maya Devi closed their Kirana Shop and focusing of Poultry as well as Goat Farming.Presently her children his receiving their education in very reputed Mount Carmel School of Bhagalpur District and she is in a condition to full fill the all basic amenities of their family and household.
Success Story - 20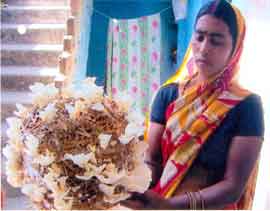 Smt. Neelam Devi ki Kahani Usiki Jubani
Name : Smt Neelam Devi W/o Sri Sikandar Singh
Village : Mohanpur
Block : Shahkund
District : Bhagalpur
Mobile No. : 09973080441
She is a marginal farm women. She is middle pass. Majority of women of Mohanpur village are engage in house hold work, farming, goatery and other farm relegated work. She was spreading her leisure time after her house hold chores idly. She wanted to do something so that she could utilize her leisure time in productive work. In the mean time, she comes in contact of KVK through NABARD.
As per advise of KVK scientist, she formed a self help group namely; "Jyoti SHG" and started Goatery and dairy through group. In this way she along with other women of village started extra earning which was very supportive, in meeting out their family need. With the time span, she also participated in other training programme of KVK like, Mushroom farming, fruit vegetable preservation, soft toys making etc. She is a master trainer of mushroom. She is not only engage in mushroom farming but also trained the other women and youth of village in mushroom farming. She is also actively involved in marketing of fresh mushroom. The mushroom growers, who is worry about marketing problem. She is ready to purchase their fresh mushroom and dispose it to other on her own level.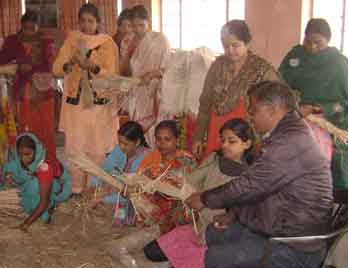 She is telling that my future plan is to connect more and more women & youth to KVK so that they can opt training as per their interest like : Beekeeping, preservation, handicraft, vermin composting backyard poultry, goatery, dairy, fisheries, nursery, mushroom farming and start their own business.
Success Story - 21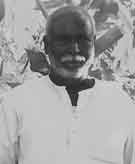 Umesh Kumar Mandal : A Papaya Man
Name : Sri Umesh Kumar Mandal
Village : Sadhua
Block : Rangrachowk
District : Bhagalpur
Mobile No. : 09709369033
He is small farmer having holding of 3 acres land. His major cultivable land is in flood prone areas and every year he is facing tragedy of flood. So, he has started papaya cultivation on leased land and maximized the profit by adopting his own technology. Every year he is propagating seeds in month of November and protecting the seedling in poly tunnel for one month when temperature becomes suitable sometimes in January. Planting is done at higher Density in the month of January. Planting of papaya during these month decrease the insect pest incidence and plants come in early production.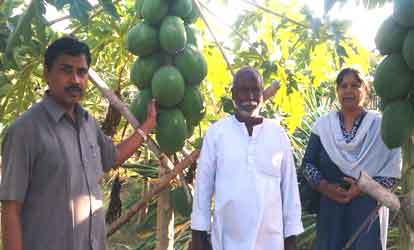 This technology adopted by him and brought a revolution in papaya cultivation in his area. Approximately 200 farmers of this area & neighbor district started papaya cultivation as sole crop. Recognizable number of farmers is cultivating papaya in integrated horticulture system. He also inter cropped the orchard with cucurbits during current season for extra income.
He started farming with 01 acre land & reaches 03 acre of land on leased. He bagged Rs. 2.5 lakh per annum from this venture.