Welcome to
Krishi Vigyan Kendra Bhagalpur
A. Overview of KVK Bhagalpur
Krishi Vigyan Kendra, Sabour has established on 1st April 2004 in the silk city of Bihar under administrative control of RAU and presently Bihar Agricultural University, Sabour, Bhagalpur (Bihar). The economy of the district is characterized by agriculture and the main food crops grown in the area are Paddy, Wheat, Maize, Pulses and Oilseeds, engaging more than 70 per cent of the work force. Horticulture crops commonly grown are Mango, Banana, Litchi, Citrus, and Guava. Among vegetables Tomato, Potato, Brinjal, Cauliflower, onion are the main crop. The district is known for growing varieties of Mango such as Jardalu, Gulabkhas, Maldah, Amrapali etc.
Apart from agriculture, other allied activities in the district include Dairy, Goatery, Piggery, Poultry and Fishery etc. The district can become hub of Agro Processing activity in Mango, Litchi, Banana, Tomato, Maize etc. There is potential for activities like Mushroom cultivation, Medicinal and Aromatic plants, Floriculture, Layer farming and Bee keeping.
Major Farming Systems/Enterprises (based on the analysis made by the KVK)
S.N.
Farming System / Enterprise
Fallow Crops
1
Paddy – Wheat
Fallow – gram, lentil/Grass/Pea/Rye
2
Paddy – Maize
Fallow – Wheat + Gram
3
Maize – Wheat
Fallow – Lentil + Rye
Fallow – Pea + Rye
4
Okra – Potato – Onion
Okra – Potato – Onion
5
Okra – Cauliflower – Cucurbits
Okra – Cauliflower – Cucurbits
Soil of Bhagalpur district is Greyish red in colour, medium to heavy in texture, slightly to moderately alkaline in reaction, cracks during summer (1 cm to more than 5 cm wide and more than 50 cm deep) becomes shallow with onset of monsoon, with clay content nearly 40 per cent to 50 per cent throughout the profile.
Major Farming Systems/Enterprises (based on the analysis made by the KVK)
| S.N. | Soil Types | Characteristics |
| --- | --- | --- |
| 1 | Diara | Light textured, well drained with free CaCO3 varying between 3 to 8 per cent. |
| 2 | Tal | Grey to dark grey in colour, poor in drainage medium to heavy in texture. Slightly to moderately alkaline in reaction crack during summer – Sabour, Kahalgaon, Pirpanti, Sultanganj, Nathnagar. |
| 3 | Alluvial Plains | Grey – Greyish yellow heavy textured soils with cracking. |
B. Location
The location of this Krishi Vigyan Kendra (Farm Science Centre) is in Sabour Block of Bhagalpur District which located in the Eastern part of Bihar . The district is surrounded by Munger, Khagaria, Madhepura, Purnea, Katihar & Banka districts of Bihar and Godda & Sahebganj districts of Jharkhand. The district has an area of 2570 Sq. Km and lies between 24°30"and 25° 30" at North latitude and 86°30" and 87°30" East longitude at an elevation of around 55 Meter above the mean sea level (MSL).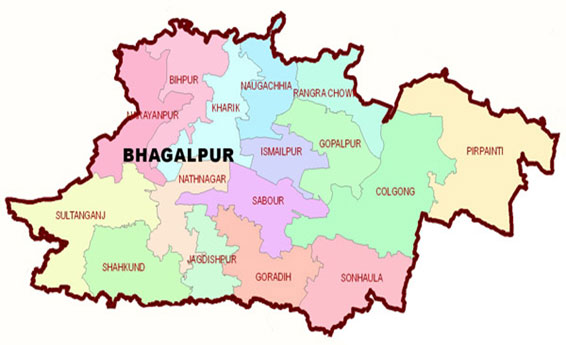 On the basis of Agro-climatic Zonal Planning , agro-climatic features particularly soil type, temperature, rainfall, water resources and its variation the district falls within the region, which can be geographically described as South Bihar Alluvial Plain . It is sub-dry and sub-humid conditions with average annual rainfall of around 1350 mm.
Read More